Montreal's NDG (or Notre-Dame-de-Grâce,) is one truly awesome neighborhood which also happens to have some amazing places to eat and drink. These spots are totally worth checking out, all within short driving distance of Auberge St. Jacques.
Ye Olde Orchard Pub & Grill
5563 Monkland Blvd.
Ye Olde Orchard has been in MTLblog's sights before for their enormous and delicious capon wings. They make our NDG drinks list for their cheap beer and good pub food, like Sri Lankan curries!
5916 rue Sherbrooke Ouest
A fantastic NDD Honey Martin has everything…. it's small with old wood floors, small booths with stained glass, taxidermied owl, a wall of whiskeys, bourbons and scotches, Guinness on tap, friendly no stress staff, regulars being friendly to each other and to strangers at the bar." This quote was taken, with no shame, from Montreal Yelp superhero Risa D.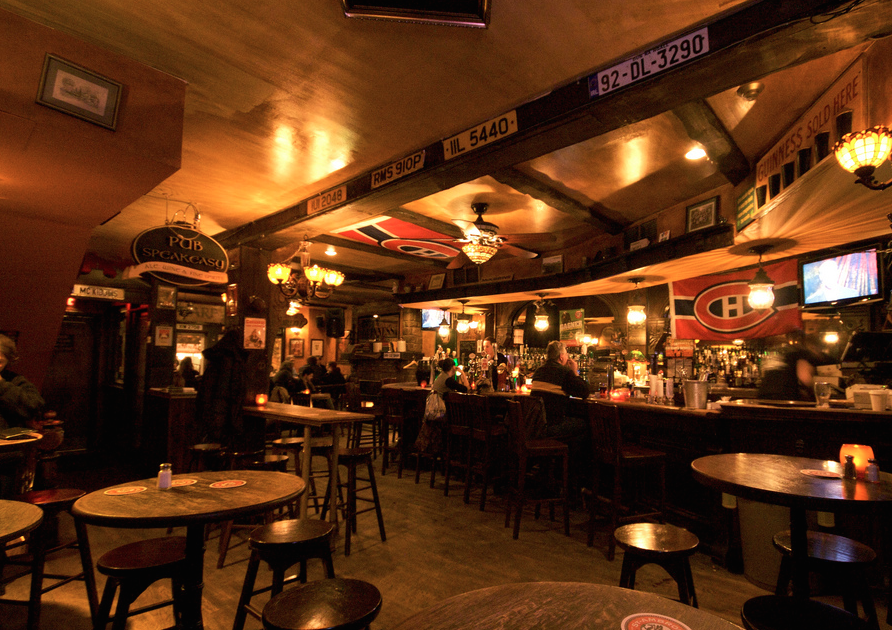 Typhoon Lounge
5752 Ave de Monkland

Known for some of the best burgers in the city, including their famous "Typhoon Burger," this neighbourhood lounge also offers a large menu of finger foods, salads and desserts that are perfect for sharing while out for drinks with friends.
Next Door Pub
5175 rue Sherbrooke W.
Next Door is a lively neighborhood favorite.
Lucille's Oyster Dive
5626 Monkland
Lucille's Oyster Dive is a long-standing Monkland Ave. favourite in N.D.G Caesar's made with crab chunks, dozens of fresh oysters, and lobster rolls are just some of what to love in Lucille's. Great summer decor, including a mermaid statue, that Seals the deal.
La Louisiane
5850 rue Sherbrooke Ouest
Hopping open kitchen delivering Cajun-Creole mains & down-home desserts, with vibrant art & a deck. They serve the hearty and spicy bayou favorites like cajun shrimp, crab cakes, blackened fish, and "dinosaur" beef ribs.
Jardin Iwaki
5887 rue Sherbrooke Ouest
Japanese seven course meals for under $30. Complete with jellyfish, Japanese pork pancakes, and seared tuna, this restaurant also offer a range of Japanese beers and sakes.
Monkland Taverne
5555 Monkland Ave
Vibrant neighbourhood fixture with a retro edge for eclectic favourites & fixed-price market menus. The Monkland Taverne makes the list for their special honey ginger shrimp and salmon tartare. As the cuisine indicates, this is not an inexpensive stop, but definitely one worth making.